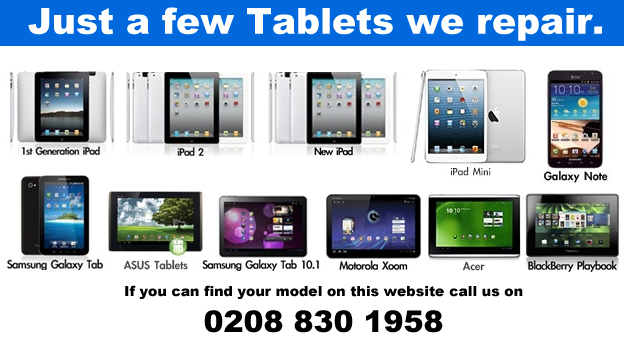 Tablet sales have exploded over the past year with approximately 68.4 million units sold in 2011. This year, the market is expected to grow even more with 126.6 million tablet forecasted for 2012. IHS iSuppli predicts that Apple's iPad will maintain its dominance with 61 percent of the market share by the end of the year.
With our extensive knowledge and buying base we have been able to offer businesses like yourselves a viable solution to outsource your tablet repair needs.
The Tablet sales figures alone justify the need to start offering Tablet repairs to consumers. Hugh quantities of Tablet have been sold and will be sold, which means the number of Tablet's that may become faulty increases.
Majority of Tablet Repairs are associated with physical damage, i.e cracked digitizers (touch screen). With the repairs being very common we have taken advantage of our purchasing power and economies of scale to offer you, as our trade customers, a viable Tablet repair outsourcing avenue.
So look no further and contact us today.
We are launching a new website on the 1st of January 2013.  It will be called www.TabletRepairSpecialist.co.uk and works much like www.LaptopRepairSpecialist.co.uk
Where you, our trade customers, are put on this consumer driven website as local Tablet Repair drop off centres. Therefore driving Tablet repair inquiries towards your way and in turn our way. For more details please contact ashwin@aciplc.com
For Trade Laptop Repairs Please Visit www.TradeLaptopRepair.co.uk
To book in Tablet Repairs please register on www.rmaupdates.com.
Please Call 0208 830 1958 if you need any assistance.
www.TradeTabletRepair.co.uk is apart of Allied Computers International Limited
(www.aciplc.com)
(www.LaptopRepairSpecialist.co.uk)
(www.RMAupdates.com)
(www.TradeLaptopRepair.co.uk)